Talia Finn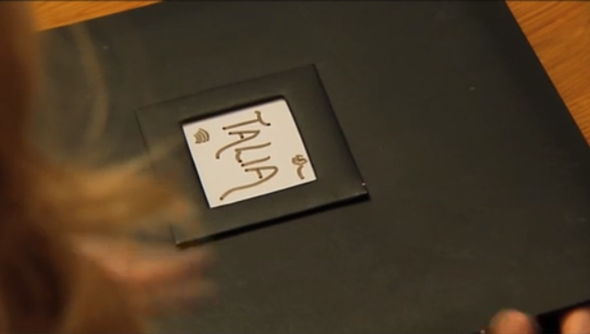 ---
Little Angel Talia
Martin Finn and Gerrie O'Grady-Finn from Cork remember their daughter, Talia, who died soon after she was born in 2010. In this touching interview on RTE's Morning Edition, Martin Finn and Gerrie O'Grady Finn tell us of the shocking news they received at their 20-week scan and how their daughter's short, but precious life has touched their family.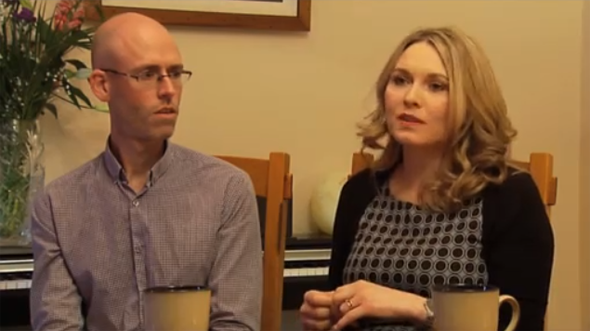 "Gerrie: It was such a strange day, the day when we got the news, it was so surreal, that Martin and I at the end of the day genuinely discussed if we were dreaming. Its impossible to communicate that feeling that you get, when somebody tells you your child is going to die, especially because your child is kicking, and your child is dancing and you can't connect the two.

Martin: Everything is turned on its head and you find yourself in this darkness - you just have to find a way out of it really. But we decided we want to because it is still our baby. We want to celebrate this baby, and love this baby. The baby has a short life cycle.

Gerrie: I actually didn't think it was possible to cry this much. I didn't know the human body had that much capacity for tears, because I seemed to just constantly cry. For a mother to be told that, it defies everything. It defies what you think are the laws of nature, because at a cellular level your body is programmed to nurture this child and take care of your new born baby. Getting that news and losing your newborn baby, it seems to violate nature really, because you're that programmed to look after your child.
"It was such a strange day, the day when we got the news...

...it was so surreal, that Martin and I at the end of the day genuinely discussed if we were dreaming"
Paschal: Describe the time you had with Talia?

Gerrie: When I was in the last stages of labour with Talia, I was on my own for a little while, for a few minutes at one point and Talia was moving - she was so vibrant. There was still a tiny bit of denial that maybe this was going to turn out differently, maybe she will defy the odds. Even with that I did say to her, 'your little life is coming to end now and its time.' So I could say that to her and it was utterly so peaceful.
My biggest fear was that she would suffer. I said 'please, Jesus, don't let her suffer', make her passage peaceful.' And when I went into labour, I sent a text to friends and family and asked them to say a prayer for her, let her time be peaceful. And it was beautiful, she never took a breath, her heartbeat was every 10 seconds, it was kinda starting to wind down. There was a profound sense of grace, I suppose, in the room. I never felt that before and I don't think I will again. Her little life cycle concluded, and it was in the most beautiful possible way and we held her, put on her little hat and her cardigan that was made especially for her. She was our baby and we held her and loved her - it was very special but also very, very sad when they confirmed that her little heart had stopped beating. What followed was a torrent then of tears.

Martin: Everybody in the hospital was amazing. They give you the same treatment through it all, which is great because we were prepared when it came to the time. We knew what was happening, we knew the ins and outs.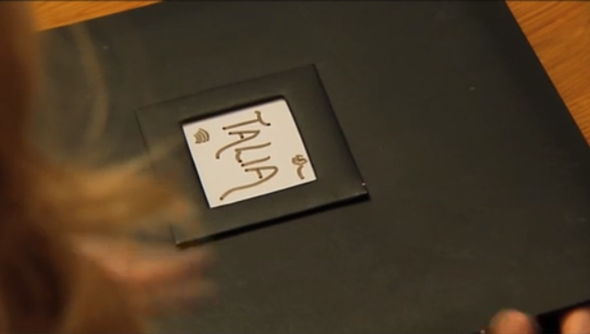 Paschal: How do you deal with a loss like that, Gerrie?

Gerrie: You have to break time down into real little increments, you can't go by a day at a time, because its a huge infinity, when you're suffering that much. You literally have to say 'this second' and 'this second'. I used to say 'oh that's another second gone now, I'm another second closer to healing. I suppose one of the hardest thing we did was when I was pregnant, that we looked at a couple of grave yards. We knew that this needed to be a very special place for our little girl. There is a lovely graveyard down by the sea here in Whitegate and I think that helped us to heal. I used to walk three and half miles every day down by the sea and I'd feel closer to her. I would walk to her and there was a profusion of colour around the grave and flowers, and that helped.

It was a goal. What I'm going to do now is, I cannot mother my child the way I want to, so I'll make sure the grave looks beautiful. I'll walk down to her and I'll talk to her on the way down. That was what I did to honor her memory. We had started when I was pregnant, with Mia, 'your little sister is going to heaven: you know we're very lucky to get an angel in our family. Not every family gets an angel'. So she took it all in her stride. When I was pregnant, we'd do various things, things like finger painting all over my tummy in this Jackson Pollock abstract artwork. She always accepted that Talia was going to heaven. Afterwards it was important that I did not fall apart for her sake and continue with 'yes she's there, mammy is sad, daddy is sad, Mia is sad, we miss her very much but there are great things about her. Look she is sending us rainbows.'

And it is not all about what I wanted to do - Talia is going to be a positive part of our lives and I can't allow myself to be swallowed up by grief and negative thoughts and bitterness. I want to honor her by healing as best as I can.
"I would say to my young daugher Mia: 'yes she's there, mammy is sad, daddy is sad, Mia is sad, we miss her very much but there are great things about her.

Look she is sending us rainbows."
Martin: You know, life isn't normal for a long time. I'm an entertainer, essentially, I play in a wedding band, trying to get into that mode as well. I can't sit at a computer and block it out - I have to process it.

Paschal: What would you say to somebody who is going through, or has gone through this very recently?

Gerrie: I think I would definitely say to somebody, 'You will get through it, your life will go on and believe that.' Believe that your child can be this beautiful, positive memory in your life and hold onto that belief. It is awful, but do it every second go by and look for peace in the day. Every little bit of peace is a little bit closer to healing.

Martin: I think its a blessing, the way Mia and Issac are a blessing. The way our meeting is a blessing. There are things that happen in our lives and they are part of our lives. I'm proud that we did the right thing for us and we went the right way about it because we are able to come to this point. No, there are no regrets.

to Gerrie: What about you?

Gerrie: None whatsoever... "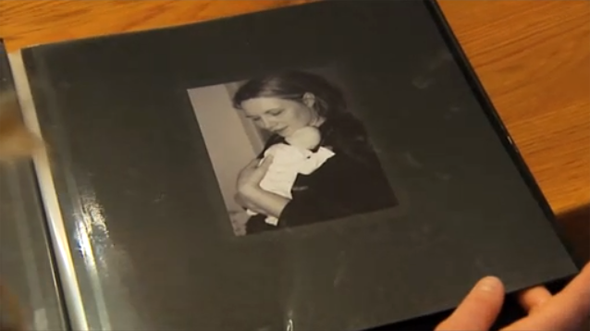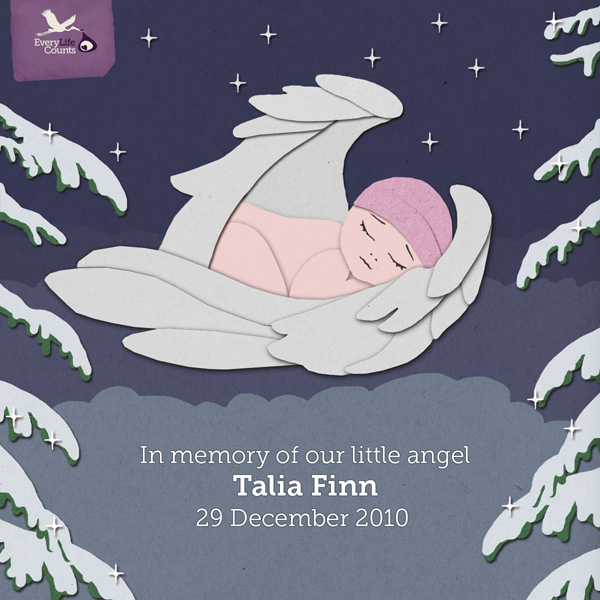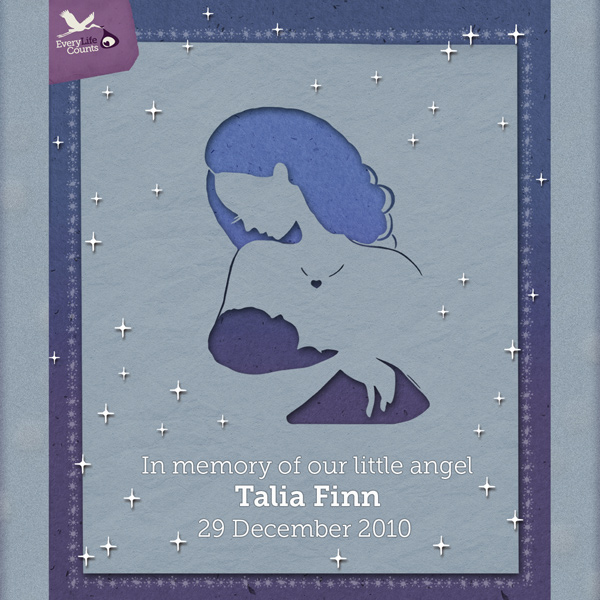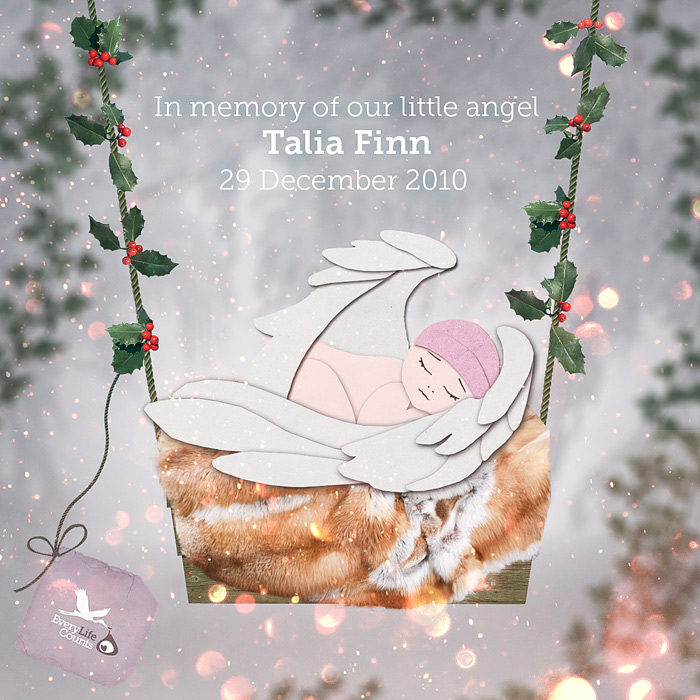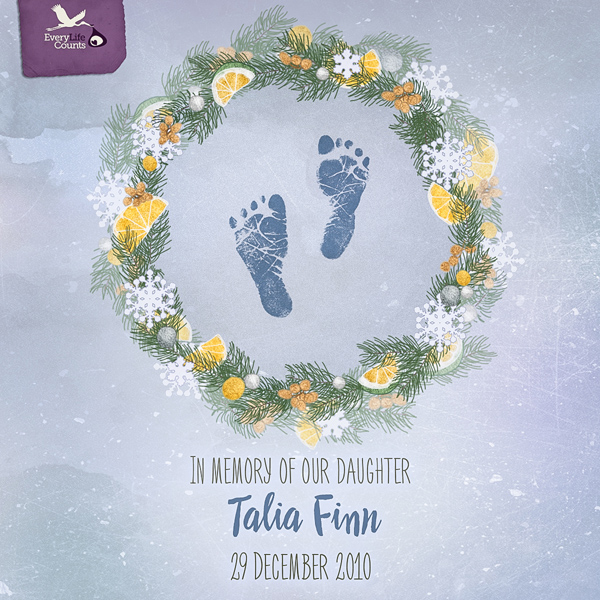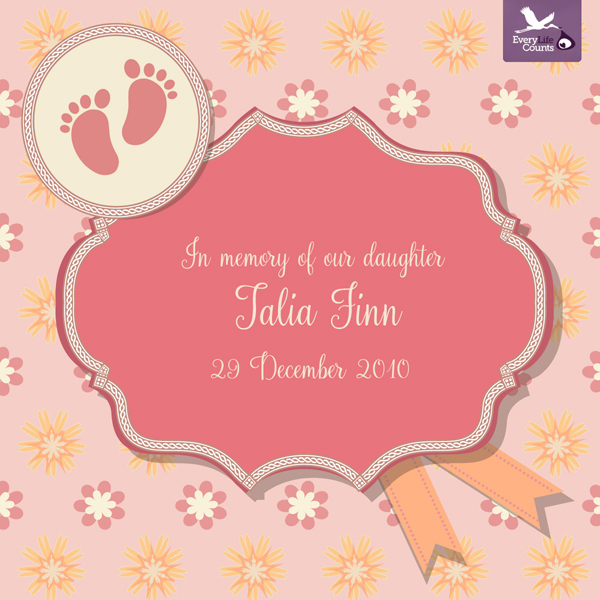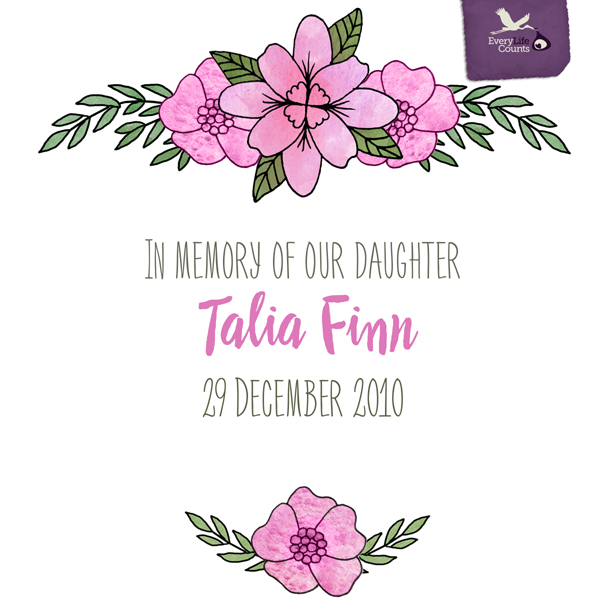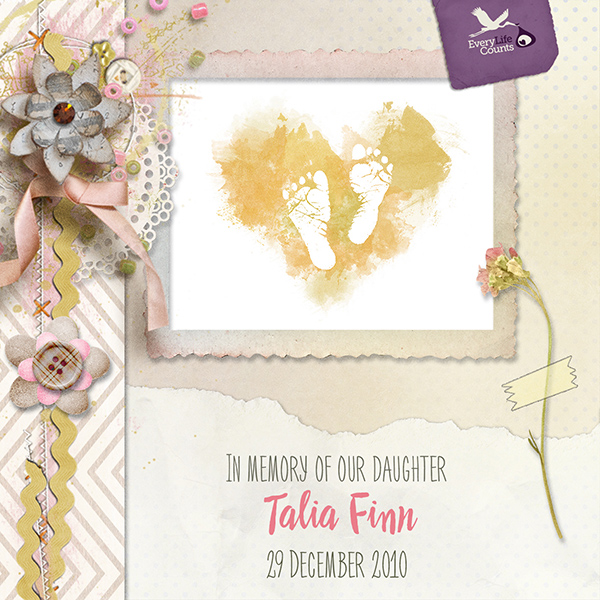 - - - - - - - - - - - - - - - - - - - - - - - - - - - - - - - - - - - - - - - - - - - - - - - - - - - - - - - - -
ANENCEPHALY is a neural tube defect which means that the baby's skull and brain do not develop correctly in the womb. A recent study published in the British Journal of Obstetrics and Gynaecology found that 72% of babies with anencephaly lived for a short time after birth. Of those children, 25% lived up to 5 days, while up to 7% lived up to 28 days after birth.
Jacquier M, Klein A, Boltshauser E. 'Spontaneous pregnancy outcome after prenatal diagnosis of anencephaly.' British Journal of Obstetrics and Gynaecology 2006; 113:951–953