Please support our outreach
Sponsor #TeamEveryLifeCounts in the Women's Mini Marathon
A group of Every Life Counts mothers, relatives and friends are taking part in the VHI's Women's Mini Marathon to raise funds for Every Life Counts. It takes place on Monday 5th June 2017 in Dublin. Please sponsor Team Every Life Counts at the paypal link above and please put Team Every Life Counts in the Purpose field! Thank You for your support! #TeamEveryLifeCounts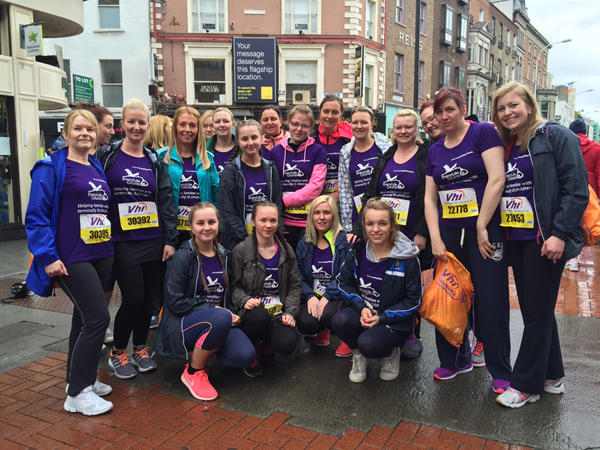 From last year's Mini-Marathon!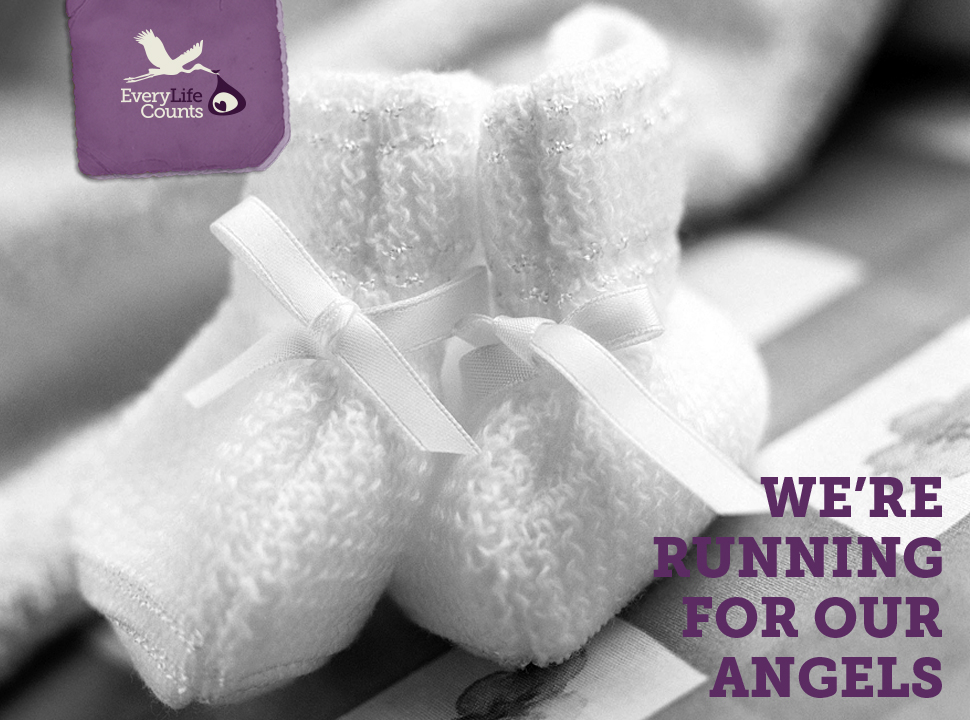 Donate to Every Life Counts
EVERY LIFE COUNTS is a support network for parents who have been told their unborn child has a very serious abnormality, and may have a limited life.

We are seeking state-funded proper perinatal hospice services for parents and children in all maternity hospitals. These services make a tremendous difference. We also offer a forum for parents to share their memories and their love for their children.
Click on the button below to donate now!
Thank you in advance for your support!
Donate by TEXT
DONATE to Every Life Counts by texting LIFE to 57802**Texts cost €2.00 per SMS. A minimum of €1.38 from each text will go to Every Life Counts. Network charges vary. Service Provider Phonovation Ltd. Helpline 0818217100.

Become an Ambassador for Every Life Counts!
Would you like to become an ambassador for Every Life Counts? It would be to support the work of the initiative in several different ways, like promotion, support for families, fundraising and general good will. If so, we would be delighted to have you on board! Please contact us on info@everylifecounts.ie
Why not Fundraise for Every Life Counts?
Every Life Counts is run by volunteers and depends upon the generosity of those who want to help parents where a child has been diagnosed with a life-limiting condition.
Fundraising can be fun and rewarding while at the same time doing something for parents and families in these heart breaking situations. There are lots of ways to fundraise, just pick the one that suits you most!
Tea & Coffee Morning / Bake Sale: On a Sunday morning in the nearby parish hall. Get family and friends to donate their yummy homebaked treats. Also see if the local Bakery may be able to sponsor the event.

Breakfast Event: Hold the event on a Sunday morning. Or on a school day in a centre/hall near the school or see if you can get permission to have it in the school. Tea / Coffee & Toast …..or the Full Irish…be creative...see if local businesses may sponsor the event and provide all of the ingredients!!

Bag Packing: In the supermarket, need to get permission from the supermarket manager/owner. All bag packers have buckets for donations.

Table Quiz: Have it in a local pub or community centre, get the prizes donated by local businesses. Also have a raffle on the night.

Auction: Get people to donate any of their unwanted items and hold the auction in the local community centre / parish hall.

Bingo Nights: Have a Bingo Night in the local community centre/parish centre or local pub.

Art Exhibitions: Get local artists to donate paintings and charge people to view the exhibition. Auction off the paintings on the last night of the exhibition.

Wax or Shave night: People sponsor somebody to get their beard or hair all shaved off….or to get their legs or chest waxed.

Non-Uniform day: In work or school, everybody makes a donation so they don't have to wear their uniform for the day.

Karaoke Night: Pay per tune, have a competition and everybody has to pay to enter.

Sponsored Walk / Cycle / Swim / Hike: Get sponsorship cards and get people to sponsor you.

Sponsored Fast: Get sponsorship cards and get people to sponsor you.

Jumble Sale / Car Boot Sale: Get people to pay for their car or to have a stall at the event.
......or let us know what other fundraising ideas you may have, we would be delighted to hear from you! Email us at: info@everylifecounts.ie
If you are interested in organising an Every Life Counts fundraiser, please let us know and we will help you in any way we can. We will also offer you advice & suggestions on how to make the event the most successful. Email us: info@everylifecounts.ie
Every Life Counts: What we do
Every Life Counts is a support network for families whose child is diagnosed with a life-limiting condition.
Provide a forum for parents of children who were diagnosed with a terminal condition to share their memories, their joy, their pain, and their lov
Seek to establish a support network for parents who have received this devastating diagnosis and want to talk to parents who have been in similar situations
Provide resources and hope to families and their children who, above all else, seek the gift of time
Work to ensure that perinatal hospice care to be made available in every maternity unit in Ireland
Correct the misinformation which is currently causing distress to parents in this situation
Seek an end to hurtful, medically meaningless and misleading terms such as 'incompatible with life' and "fatal foetal abnormality"
We hold Little Angel days where families come together and remember their children through poetry, sharing their stories and more.
We hold Memory Making days where families get together under the guidance of an arts teacher and make mementos for their children and families.
We hold group counselling sessions for bereaved parents.
Every Life Counts helps parents tell their testimony and publish it on our website, www.everylifecounts.ie and also makes personal videos for parents who wish to avail of that. These are published on Youtube, our Facebook Page and on the website.
We run a private forum for the families and introduce new families to this in order for them to make connections and get much needed support and advice at this difficult time.
We publish information leaflets for support groups and for parents.
Along with other support groups in this field, we brought together medical experts and families for a conference on the importance of providing perinatal hospice to all parents. This was attended by 140 medical staff.