Macy Mae Baker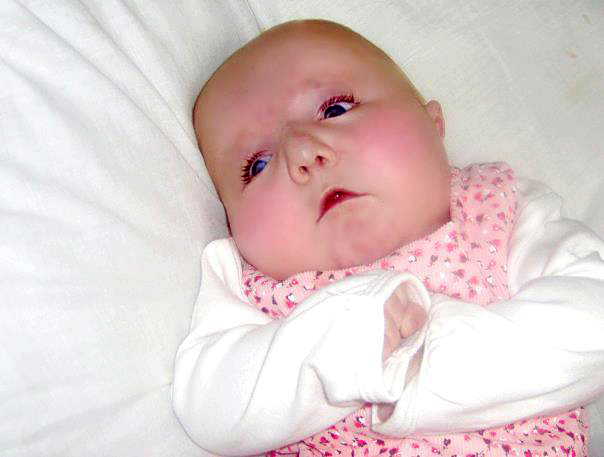 ---
Our Daughter Macy Mae
Katrina Baker's daughter Macy Mae was diagnosed with Trisomy 13 or Patau Syndrome. She lived for two years.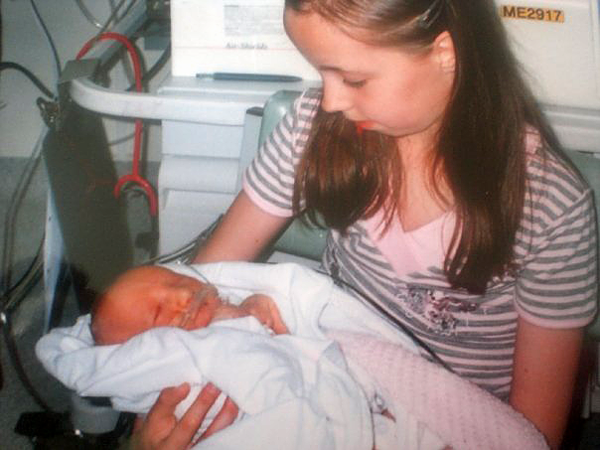 Me with my big sis Laura...
- - - - - - - - - - - - - - - - - - - - - - - - - - - - - - - - - - - - - - - - - - - - - - - - - - - - - - - - -
Looking forward to a new baby
In 2005 I married my darling partner and we enjoyed our wonderful honeymoon , not long after we returned I began to feel unwell and turned out we were pregnant, this was my 4th child and the 2nd with my husband, however my last pregnancy took its toll and my husband was worried about me.
It came to our 20 week scan and we found out we were having another little girl, so 4 in total, I had names but my husband James really liked Macy. It grew on me and that's what we had decided. This pregnancy wasn't as bad as my 3rd pregnancy was, even my pains from SPD were not as bad this time round. At 29 weeks I was admitted to hospital with period type pains and given steroids as they were concerned that I was in labour but 2 days later I was released. By 33 weeks I was beginning to struggle as I was quite sore by now, 3 days later my waters had gone and a trip to labour ward had this confirmed. Even though I was given steroids, they still didn't want me to give birth as my baby was premature and because I wasn't going into labour I was kept in and monitored on the ward and sent for a growth scan and everything seemed OK.
| | |
| --- | --- |
| | "The doctors would approach myself and my husband separately about what they wanted to do, they just wanted to let her slip away but Macy wasn't wanting to do that." |
That afternoon the head consultant whose care I was under, but never seen before, was standing at my bed. I remember the words, "tomorrow your baby will be born, she is very small and keeping her inside isn't doing her any good". That night I could barely sleep and then it was our turn to go to the labour ward. The student midwife and the midwife that were looking after us had called for a paediatric doctor just in case as she was 6 weeks early and because I might deliver quickly they had the resuscitation cot waiting.
Macy was with us
After a 6 hour labour at 9.49 pm I had given birth to a little bundle that was squashed up and also had a extra finger, she wasn't crying but just stared at my face. The doctor looked at her and said she should be fine to come up to the ward with me, i'm so glad the midwife made him change his mind. Macy was taken to scbu just for some oxygen and I went for a bath. My Husband had gone to get the midwife to say we were ready to see her, at that point she returned to the room and her face said it all, a senior doctor needs to see us before we can go to visit her.
Right then I knew something was wrong, the 10 minutes we had to wait seemed like forever and then it was said "your child has the characteristics of a child that has a condition" but they weren't sure what condition. How could this be happening to us I was only 26 and all my tests were normal and the scans had never picked anything up. That evening she was left in scbu and I tried to go and get some rest on the ward. I was woken at 1.32 am by the midwife and Macy had taken a turn for the worse she was put onto a machine and it was giving her more oxygen. I sat with her but still I couldn't accept what was going on. After three days it was confirmed Macy was born with a terminal illness called Trisomy 13, a genetic disorder that was not compatible with life. Had it been detected earlier, I would have been advised to terminate my pregnancy. It was discovered that Macy was blind, deaf, had serious brain and heart abnormalities, kidney problems, cleft palate and lung disease.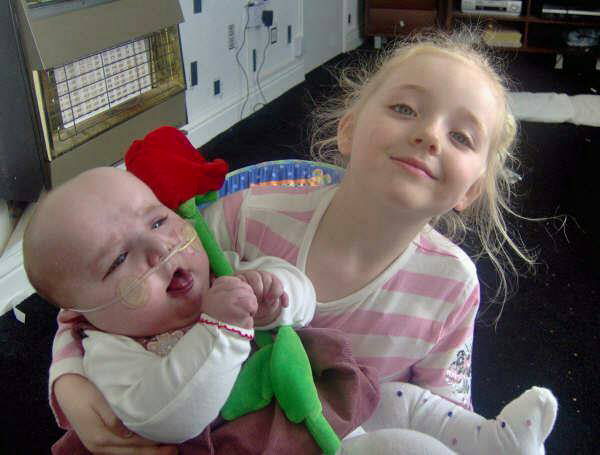 With my sister Chloe...
- - - - - - - - - - - - - - - - - - - - - - - - - - - - - - - - - - - - - - - - - - - - - - - - - - - - - - - - -
Devastating news for our family
The next 11 days in the NICU were horrible, she stopped breathing on one occasion and I thought that was it, my husband ran all the way to the hospital as he was at home but she wasn't ready to leave us, she wanted to spend time with is and her sisters. Trying to explain to an 8, 5 and 2 year old that Macy wasn't coming home was the hardest thing that I had ever had to do. During the 11 days we met some wonderful people and some fantastic nurses. The doctors would approach myself and my husband separately about what they wanted to do, they just wanted to let her slip away but Macy wasn't wanting to do that. She was fighting, so at 7 days a nurse had managed to get her from her incubator to a cot with oxygen through nose prongs, with that we were introduced to the respite and paediatric nurses team, they were talking about about having the oxygen tubed through our house so we could take her home to die.
This was done and on the 28th May 2006 we were allowed home, we were sent home in an ambulance with the blue lights going. When we got home Macy's sisters were waiting for us, my mother was crying which we never thought would happen. It was a day we never expected to be experiencing.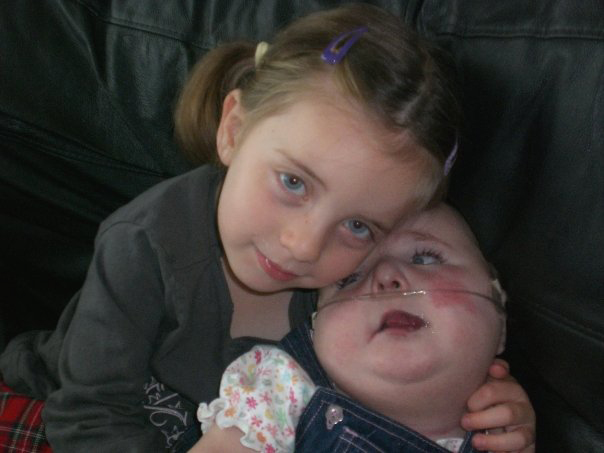 With my big sister Jaz...
- - - - - - - - - - - - - - - - - - - - - - - - - - - - - - - - - - - - - - - - - - - - - - - - - - - - - - - - -
Macy kept fighting and proving them all wrong
We lived our days on the edge. It was a scary time but Macy didn't get any worse she was proving them wrong. A week before Christmas she was admitted to hospital with pneumonia and we were told to expect the worse, this was something we were regularly told, but on Christmas eve she came home and she enjoyed her 1st Christmas at home with us. Life was going well we had regular visits to the doctors and there were amazed at how well she was doing. She had her 1st birthday and then her 1st holiday, which she loved. It was wonderful, you would get those that would stand and stare but that wasn't so bad, most just asked what was wrong with her.
In September it was decided she should have a little operation for a feeding tube to be fitted into her tummy to help with her feeding, we were once told again she may not make it but it was the best thing for her as her current feeding tube was damaging her throat. She was in theatre 23 minutes but it seems like hours. She came round and 2 days later we were allowed home.
Our 2nd Christmas together came and went and we even had planned her 2nd birthday. We had booked a big room for a disco and buffet. Macy was special and wasn't always going to be around so every milestone was going to be a big thing. Macy went to a nursery with a nurse as our respite care and she had made me a mothers day card which has her hand prints in and her picture. It was such a nice thing, a beautiful memory. They had brought me breakfast in bed and we had a nice day visiting family. On the Monday Macy had go to my mothers for the day but my mum was concerned and brought her home early as her breathing wasn't her usual breathing pattern.
Hanging out with my sisters....
- - - - - - - - - - - - - - - - - - - - - - - - - - - - - - - - - - - - - - - - - - - - - - - - - - - - - - - - -
She was right, I rang my doctors who said to ring an ambulance. We went to Kettering A&E and I could hear the paramedics talking over the radio saying her sats were really low and there was a crash team on standby but I had seen this previously so didn't think much to it. That was until her blood results had revealed she was in fact in renal failure, I couldn't accept this she was only discharged from the children's ward 4 days previously but it was true. My husband had left the children with his parents and drove to the hospital where we had to make the choice to transfer her to Leicester to be put on a ventilator or to treat her at Kettering and hope the antibiotics would give her more time. We decided to take the chance and stop at Kettering, we were taken to the children's ward where we had spend many days previously and she was monitored closely. It was now becoming late and I hadn't eaten so I decided to go to my parents for some food and to get some sleep as my husband was at the hospital.
We left at 12.31 am and i'd rang them at 1.20 and again at 2.10. Trish, Macy's nurse had said she was settled and James had fallen asleep, so tried to get some sleep on my parents sofa. Twenty minutes later the phone rang and I knew that call was the call that I had been expecting and dreading for 22 months. It was who I thought it was, it was the nurse she explained that Macy's sats had dropped and she was struggling. My parents lived 10 minutes away from the hospital and those 10 minutes in the car took forever. I jumped from the car and ran through the hospital and through the children's ward no one speaking to me, no one making a sound. I opened the door to her room and there she was in the cot still, my husband was sobbing, she had died. She had died and I wasn't there with her. I was just 2 minutes late and the doctor was so apologetic. I couldn't help but fall to the floor, you never think this will happen to you but it did, it happened to me and my family.
| | |
| --- | --- |
| | "I couldn't help but fall to the floor, you never think this will happen to you but it did, it happened to me and my family." |
We left the hospital that morning at 4.50 am and we went to bed. By then all our family was aware Macy had became a angel. All our family except my girls, how could I tell them that? When we woke up and went to collect our girls, their sobs were heartbreaking. They were devastated that they never got to say goodbye, they hated me for not letting them visit her the previous night.
When we had Macy we were told to organise her funeral so it was something we had spoken about a little. I knew that I wanted a horse and cart and a certain song "Angels" by the Kelly Sister or more recent by Angelis. So the 2 weeks following her death we had planned her funeral, we had chosen the songs, we had ordered the flowers and on the 12th March 2008 at 1.30 pm at Albert Munn Chapel Kettering Crematorium Macy turned up in her beautiful pink coffin with a beautiful white angel hand painted in a carriage pulled by 2 black beautiful horses. She was carried in by her daddy, her granddads and her uncle to Corienne Bailey Raes "Just like a star"
The vicar had said a few words and we had asked Macy's nurse do a reading. We then had the song by Pink Floyd's "Wish you were here". After that another reading and then "Angels" by Angelis was played. I had written a piece but couldn't read it so the vicar kindly read it out for me. We left with her daddy, granddads and uncle carrying her out to "chasing cars" by snow patrol. Outside was the carriage which then pulled her to the children's garden. Macy was buried alongside other precious children and we let of 50 balloons in her memory, to which most got caught in the trees which made my other children laugh. I told them it was her letting them know she was safe.
After everyone had left I sat with her for hours reading the beautiful tributes left to her.
After that day I went daily the 8 miles to visit her and did that for over a year. It has now been nearly 7 and a half yrs since Macy died and it doesn't get easier but I did go on to have a rainbow pregnancy and that blessing was definitely sent by Macy.
I was carrying twins, little boys at that, they are now 5 and they definetly know who Macy is in our house. My girls talk about her daily and she is on every wall of our house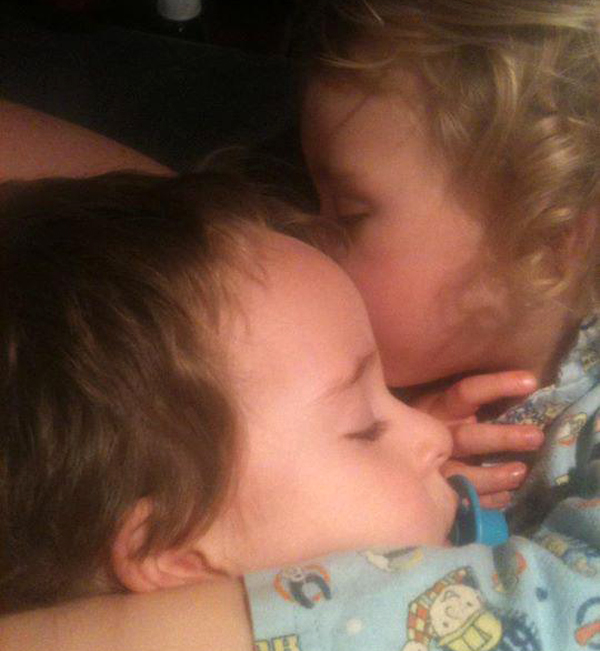 My twin brothers... how cute they are!
- - - - - - - - - - - - - - - - - - - - - - - - - - - - - - - - - - - - - - - - - - - - - - - - - - - - - - - - -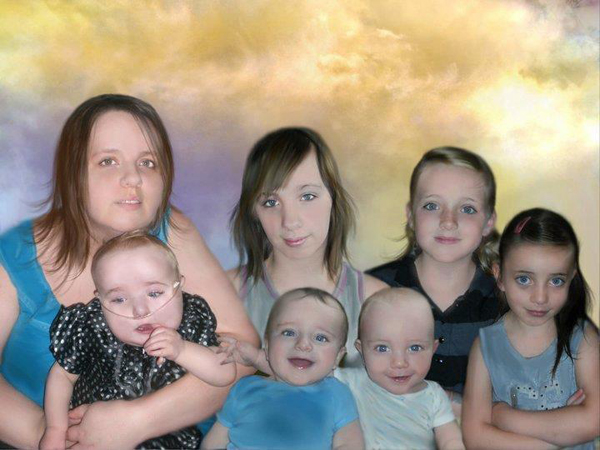 Macy Baker. Rest In Peace
4 March 2008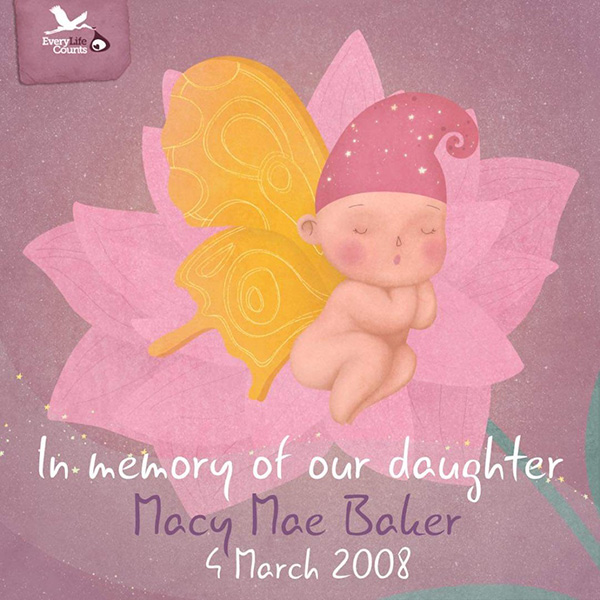 - - - - - - - - - - - - - - - - - - - - - - - - - - - - - - - - - - - - - - - - - - - - - - - - - - - - - - - - -
TRISOMY 13 or PATAU'S SYNDROME arises because of the presence of an extra chromosome. There is a significant risk of miscarriage but research has also found that children with Trisomy 13 or live on average for 7 days after birth, while almost 31% live for more than a month, and almost one in 10 live for more than a year.
Rasmussen SA1, Wong LY, Yang Q, May KM, Friedman. Pediatrics. Population-based analyses of mortality in trisomy 13 and trisomy 18. 2003 Apr;111(4 Pt 1):777-84.JM. http://www.ncbi.nlm.nih.gov/pubmed/12671111
| | |
| --- | --- |
| | Links |