Faith Walker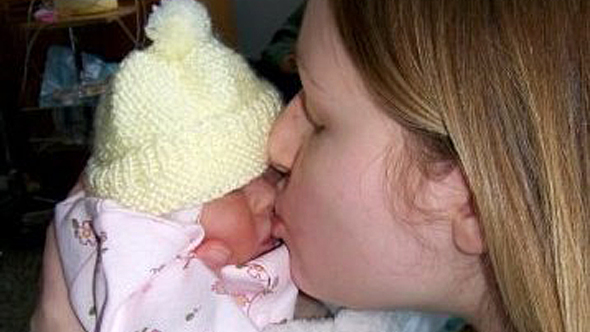 ---
Faith and Hope
Myah Walker's baby was diagnosed with anencephaly at her 19 week scan.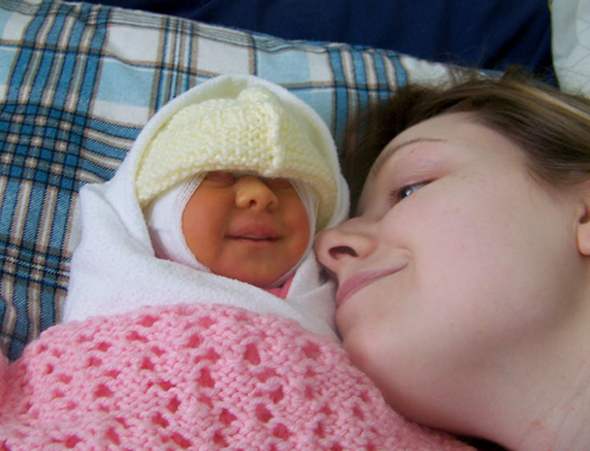 From Myah's blog


When I had my 19-week ultrasound, I remember the look on the radiologist's face (I can't describe that look) and when he asked me if this was my first child, I had a feeling that something was up. He said, "Something is wrong with the baby's head. This doesn't mean that you can't have healthy babies in the future." That is all he would tell me, that there was something wrong with the baby's head.

The doctor told me with tears in her eyes, "What they found is that the baby has no brain." She said that I could choose to continue the pregnancy with no risk to my health, but that my baby would die shortly after birth. Or, I could choose to induce early to terminate the pregnancy.

I was shocked. Just an hour earlier I was watching the ultrasound monitor and I could see her swimming around and sucking her thumb just like a normal baby. She looked perfect to me. I thought, no brain? How is that even possible? I said to the doctor, "Well... she must have some brain," but she just shook her head and said, "No." She said her movements were "only reflexes."
Happy Birthday Baby Faith
I went in for my c-section with my mom by her side on the 19th February 2009. The doctors and nurses were just amazing! At just after 12:00 I went into surgery and at 12:23 (approx) Faith Hope Walker was born crying! Faith weighs 6lbs 9oz, she is here and just beautiful.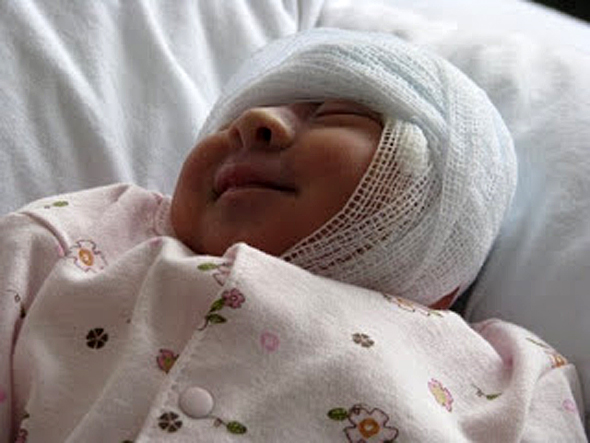 My little rosebud... she turned 4 days old today! Faith is slightly jaundice but is doing amazingly well. She breathes well on her own, she cries when she's hungry or needs changing, she talks and cooes (she has the sweetest voice) and she smiles. She is so beautiful... she is such a miracle :)
Happy Sweet Sixteen Faith!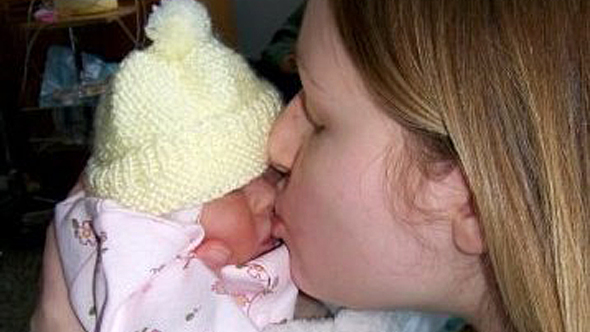 Faith turned 16 days old today! :) It's a beautiful day out... I wonder if sometime soon I'll get the chance to take her outside for a walk? Well, I did just that! Three days later, it was really beautiful out today, so I took Faith outside for some fresh air. We went for our first walk. I don't have a stroller, but I bundled her up close to me in that baby wrap, which might actually be better than a stroller this time of year. My body heat kept her plenty warm. Oh, and I guess strollers aren't very good for walks down on the marsh! Faith is doing very well. She is a nice healthy pink colour today. And she is looking prettier everyday, she really is. I don't know if I ever mentioned it before, but apart from a saline dressing on her head (which is changed once a day) Faith is living a completely normal life. It's quite miraculous, considering she was diagnosed with having "no brain." She is not only surviving, but seems to be thriving. And contrary to pretty much everything that the medical community believes about anencephaly, Faith is functioning at the same level as any "normal" baby of her age.
My angel at 9 weeks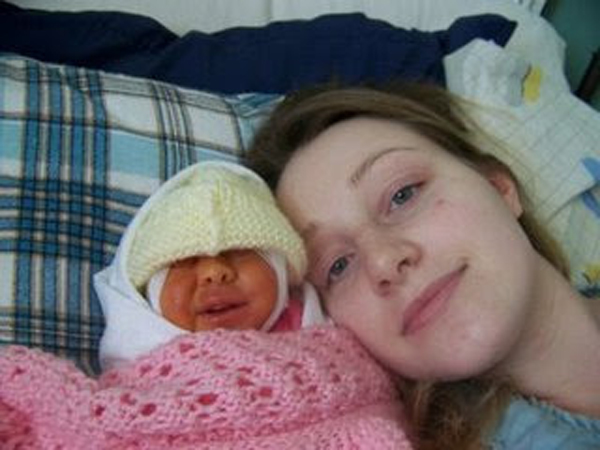 Faith is 9 weeks old today! Her uncle Phil is now home from university, so it will be nice to have him around. It has really been beautiful here lately... well it's been a bit rainy but the spring peep frogs are chirping and it makes for a really beautiful and soothing ambiance. There are marshlands behind our house - we are surrounded by wildlife sounds here. It's supposed to get up to plus 20 degrees and sunny this weekend, and I can't wait to take Faith out for a stroll. By the way, thanks to everyone who has sent encouraging messages and to all those who are praying for us! Ok, time for bed (it's 1:48 am here). Thanks for checking in.
12 weeks old today!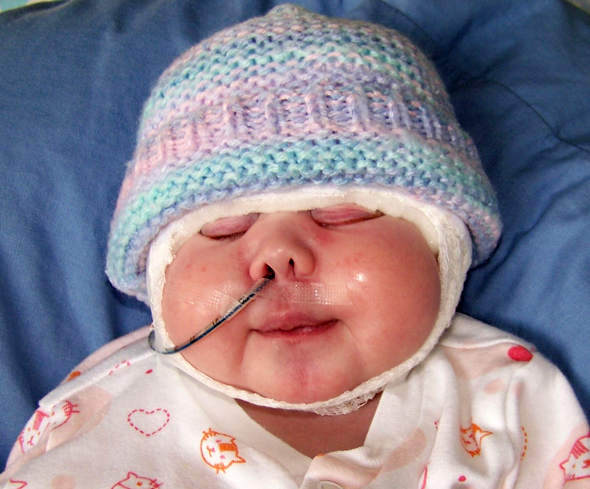 Faith is 12-weeks-old today. In five days she'll be three months old! :) My little girl is doing so well... she's been full of energy these past couple days and I started putting her to the breast again. I don't have much of a milk supply right now, but we are doing some practice nursing and she's been doing quite well! She's getting stronger everyday. Faith truly is a miracle and it's amazing how many miracles we've been blessed with in these past twelve weeks. She's bounced back so many times, and all thanks to God and those of you who have lifted up your prayers in Jesus' name. Just think... Faith was given a 0% chance of survival. Not even a 1% chance of survival - zero. They say her condition is "incompatible with life." I was told she would only live a few minutes or hours... a couple of days at best. But just look at her - almost three months old and still going strong. I can only thank God for that.
The best 93 days of my life...
...were spent with my daughter. Faith went to Heaven today. We spent most of the day snuggling together in my warm bed. She was starting to go a little cold, but mommy kept her warm. I told her that I loved her many times. I was holding her in my arms when she passed away. It was around 4:40 in the afternoon. That was several hours ago now, but she still looks so beautiful. She is looking like a little porcelain doll. Her tube feed is gone. Her lips are still pink and her facial expression looks so happy and peaceful. God is good.
Thank you all for your prayers. Myah, 23 May 2009
- - - - - - - - - - - - - - - - - - - - - - - - - - - - - - - - - - - - - - - - - - - - - - - - - - - - - - - - -
ANENCEPHALY is a neural tube defect which means that the baby's skull and brain do not develop correctly in the womb. A recent study published in the British Journal of Obstetrics and Gynaecology found that 72% of babies with anencephaly lived for a short time after birth. Of those children, 25% lived up to 5 days, while up to 7% lived up to 28 days after birth.
Jacquier M, Klein A, Boltshauser E. 'Spontaneous pregnancy outcome after prenatal diagnosis of anencephaly.' British Journal of Obstetrics and Gynaecology 2006; 113:951–953