Eliot Mooney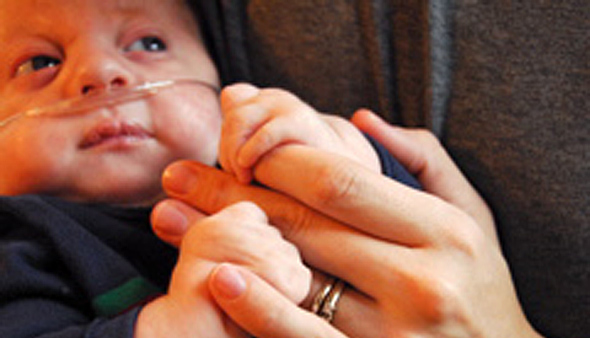 ---
Our First Baby!
Matt and Ginny Mooney were expecting their first child; however, two months before their child's due date they were informed that their baby had Trisomy 18.
Trisomy 18 is also called Edwards syndrome (or Edward's syndrome), and is the second most common trisomy, after Trisomy 21 (Down syndrome). It occurs in about 1:5000 to 1:8000 births. Trisomy 18 syndrome is due to the presence of an extra #18 chromosome, meaning that their baby had three chromosomes in the eighteenth position instead of the normal two.
Unlike Down syndrome, Edwards Syndrome is usually fatal, with most of the babies dying before birth - and those who do make it to birth typically living only a few days. However, a small number of babies (<10%) live at least one year.
They wrote on their blog

Ginny & I think it important that people understand where we are coming from and how we are approaching the days ahead:

There's nothing you can say to make it any worse or any better. We know it is difficult for our families and friends to know how to comfort us or what to say to us. Therefore, be relieved, and know that your presence, phone calls, and support are what we need, and just the fact that you show us you love us DOES make it better.

We are excited to have our first baby! We could not express how important it is for you to understand that we are not in despair. Rather, we are excited to have this baby at this time. This is our first child, and we cannot wait. Of course, we would do anything in order for this baby to be healthy, and we have cried enough to last a while; but we feel the Lord is sovereign and, therefore, this is the baby for us. And we anxiously await our gift.

We do not know if it is a boy or girl. Again, Trisomy 18 has not changed our approach to our first child, and we really do not know the sex.

We're not strong. If you happen to think we are handling this well (and there are many moments I would argue that point) and see any strength in us at all, please know it is from our Father and not due to anything having to do with either of us.
Eliot is born!
Eliot Hartman Mooney was born on July 20th, 2006 at 4:59pm. He was 6lb 18 ½ inches
We are currently at the NICU where Eliot is doing well and every day is a new adventure for us to treasure. We would love your continued prayers for Eliot's precious life.
Eliot was born with an undeveloped lung, a heart with a hole in it and DNA that placed faulty information into each and every cell of his body.
Eliot at 6 weeks!
We continue to celebrate each day of Eliot's life with a birthday party, picture, and a prayer of thanks. Each day continues to be a miracle, and we are asking for many more. Two months of miracles is approaching fast. Ginny and I have sought ways to commemorate the significance of a month. For Eliot's 2 month birthday (September 20), we are asking whoever wants to do so, to send him a birthday card.
Eliot at 3 months!
A quarter of a year. That is how one friend described it, and we liked it. Eliot's three month party was Friday, and what a party it was. Friends, pizza, kids everywhere...can you beat it? Ginny and I attempted to address the group, but we each welled up with tears about a sentence into it. However, I hope the message was clear. Thank you, friends, for making this journey less lonely.
Eliot got his first ever cordless pictures (no feeding tube, oxygen, or stickers). This was no small accomplishment.
We continue to fight fear. We continue to hope. We continue to laugh and experience joy. We continue to savor each moment with our son.
Eliot leaves us after 99 days
Thank you, Eliot. You were the joy of mine & your mom's life."
Our fighter of a son has gone to be with Jesus. We celebrate his life and revel in the fact that he is finally well. We are sad. We miss our son. But do not mourn for us. Celebrate with us. Eliot's life points us all to worship. Join us.
- - - - - - - - - - - - - - - - - - - - - - - - - - - - - - - - - - - - - - - - - -

TRISOMY 18 or EDWARD's SYNDROME arises because of the presence of an extra chromosome. There is a significant risk of miscarriage before birth, but, quite contrary to recent reporting, studies have found that the average duration of survival for children who lived until birth with Trisomy 18 was 14.5 days; with 39% of babies surviving for more than a month, while 8.4% survived for more than a year.
Rasmussen SA1, Wong LY, Yang Q, May KM, Friedman. Pediatrics. Population-based analyses of mortality in trisomy 13 and trisomy 18. 2003 Apr;111(4 Pt 1):777-84.JM. http://www.ncbi.nlm.nih.gov/pubmed/12671111