What people say about Every Life Counts
Support from people on our award nomination
"One of the most amazing organizations I have ever known they helped me at the worst time in my life I am eternally grateful to still have them there they deserve this award not only for all the work they do but for the wonderful people they are."
Justine
"Definitely deserve this award"
Shannon
"Much deserved nomination"
Kate
"Such a worthy award for Every Life Counts bringing light into parents lives in the darkest of days, helping parents when they feel others have let them down and giving them strength and love to carry on and celebrate their beautiful babies"
Sharon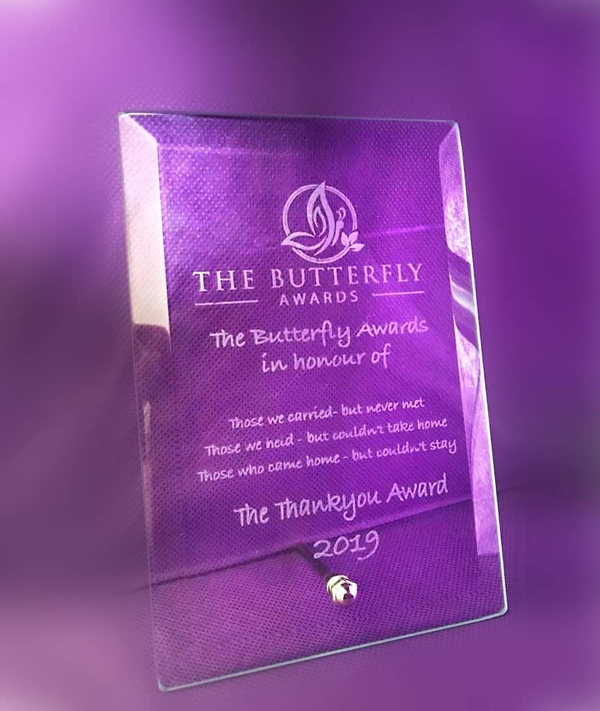 "This organization is amazing they deserve to win this award 100%"
Sarah
"Every Life Counts does tremendous work for parents and babies who want to treasure to the upmost their shared time and love no matter how short that may be on this earth"
Neil
"Fantastic organization. The information they provide a second to none the compassionate personal support they provide for families is outstanding"
Tracy
"Amazing work and a huge comfort to parents in a situation no one expects to find themselves in. 100% deserve this award"
Maireen
"Every Life Counts deserves this award so much they know no limits to help grieving families they reach out to help anyone that may go through this terrible loss of a baby. My best wishes to this organization and deepest gratitude for this organization"
Emma
"Such a beautiful organization so much love"
Dúlra
"An amazing organization who helps parents love and care for babies with life limiting illnesses"
Erin
"Very worthwhile organization that deserves recognition"
Brian
"Wonderful to see this care and support at such a sad time in any parent's life creating memories for the parents and my family can only be beneficial to all those grieving to help them recover from their loss"
Mariead
"Amazing organization that helps those in need of support"
Glenda
"True support, one to one help, compassion and knowledge for every step of the way and beyond"
Virgilla
"People who give their time selflessly like this need to be acknowledged they make the world a better place"
Bridie
"This organization does fantastic work for families, and has helped many, the support it gives is unbelievable and many families couldn't cope without that support"
Tina
"A wonderful organization providing greater support to families"
Tess
"The organization helped me through the most difficult parts of my life with clear and sincere empathy and understanding. I can't say enough good thing about them, but they are forever in my heart and their good work will never be forgotten"
Cathal
"I am honored to see my book "Waiting with Gabriel" among the books recommended by Every Life Counts in Ireland, along with "Empty Cradle" written by. Deborah Davis Ph.D., my friend and co-author for "A Gift of Time". I'm sorry anyone needs these books but am grateful to know that the books are of help. I wrote that the books are of help. I wrote them in hopes that at least one other parent would feel less alone."
Perinatal Hospice and Palliative Care
"I just want to give an acknowledgement to a somewhat small account. Their name says it all. Every Life Counts. Nothing but love and encouragement to those who chose to continue their pregnancy despite the baby's poor prognosis & support to all others that was needed otherwise."
Rachel, on twitter
"Hi Vicky, I just wanted to say thank you so so so much for today and the last few weeks. What you did for me today was amazing. It was such a special day and all Every Life Counts have done for me has been amazing. I'm so thankful xx"
Mum Justine
"Hi Just wanted to say this page has been a great help for me. I had twins, a boy Francis and a girl Emelia 27-11-2915. Unfortunately, Emelia passed away aged 19 days on 16-12-2015. She had full form Patau syndrome. We found out ages 4 days old, abnormalities were detected at our 20-week scan. However, they were unsure of diagnosis without further tests. I refused these before birth as it could affect Francis. Doctors were amazed by Emilia as they had never seen a Patau baby survive longer than a few. Hours. She was a little fighter. We miss her clearly. I'm made up I found your page"
Thank you x
"This charity/ foundation supported and still supports us even after baby Brendan has passed. Every Life Counts are a most genuine and supportive organization I've had the pleasure of meeting with. Helping us through the grieving process and inspiring me to follow in her footsteps and raise support and awareness of not compatible with life diagnosis. Thank you."
Mum Gemma
"I remember that first phone call from Every Life Counts & I didn't have to say a word. ELC knew exactly what place I was in. ELC truly were my first step to healing. When I think back to that now, it's like I was a completely different person. Rossa is part of us & I carry him with me every day"
Mum Rose
"Hi, love your account. I just lost my baby girl. She had Trisomy 18. She was 2 months. Yesterday was her first month gone from me"
Vakerita, via instagram
"I am forever grateful to Every Life Counts and. In particular, to Vicky and Emmett. This video is extremely precious to us and it's our privilege to share your outstanding work"
Mum Joanne
"Thank you for remembering my little man, it means so much"
Mum Helen
"At the darkest point in my life, Every Life Counts enabled me to see the light by helping me to come to terms with the life-limiting diagnosis of my daughter Freya who had anencephaly, and for that I was able to love and care for her just the way I should have. Freya and I will be forever grateful for the support we have received from the team at Every Life Counts and more importantly for the forever-friends we have made on our journey together"
Mum Erin
"I am currently 20 weeks pregnant and we just found out yesterday that our baby has anencephaly. We are so heartbroken. We have no idea what to do, but your video is really pushing me towards with the pregnancy. I would love those final moments with my baby. Or even just to hold him. I am glad I found this video"
Stephanie on YouTube
"Thank you, Every Life Counts, for sending our this care package. The wee necklace is lovely. After a long day I was feeling so very down if it wasn't for Vicky at the time when I had more questions than answers I would have been lost"
Mum Kirsty
"Hi, I recently lost my baby girl to anencephaly. I have been struggling since the loss of my baby girl. I watched the video of the mums experience of how you have been able to help them, so this has given me the confidence to reach out"
Mum Regina
"Thank you for walking this journey with us"
Mum Becky
"If you know a loved one, or a friend going through a life limiting diagnosis, with their unborn child, there is always help there and this organisation is honestly a lifeline to those before, during and after birth"
Mum Sarah