Information
There are several conditions which, if diagnosed during pregnancy, can mean that a baby may not live for long after birth, or that he or she might not make it to birth at all. These diagnoses are rare but they can arise for up to 700 babies - about 1% of pregnancies - every year in Ireland. Everyone would feel enormous sympathy for parents faced with a poor or life-limiting diagnosis for their baby. What many parents are not told, however, is that while their children will have a short life, the time they have with them can be hugely joyful and rewarding.
Download our 5 factsheets below
Download our Presentation on Perinatal Care below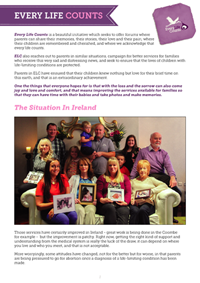 ---
Download our 6 Project Love Postcards Here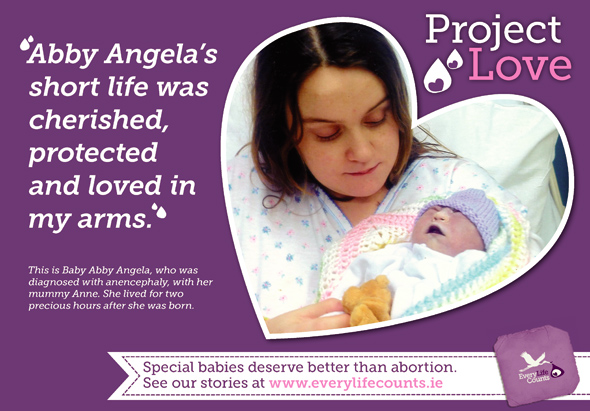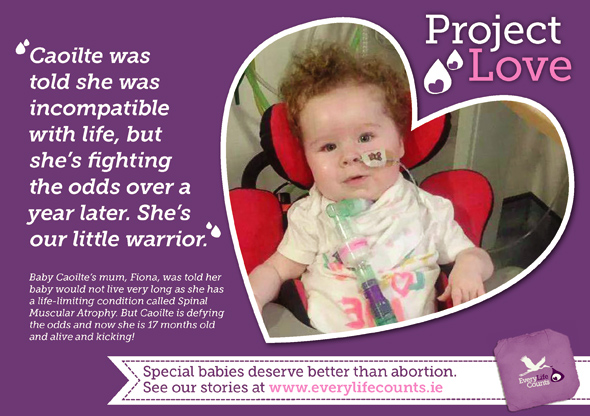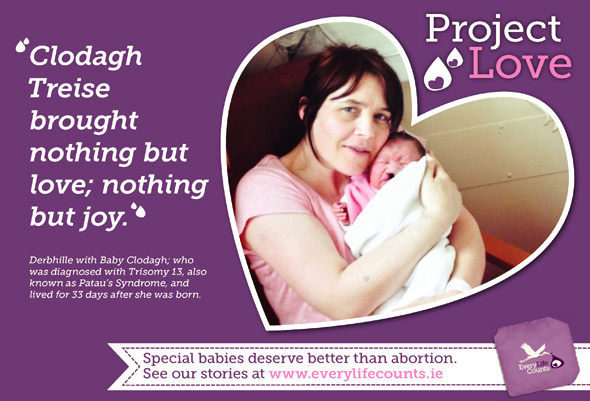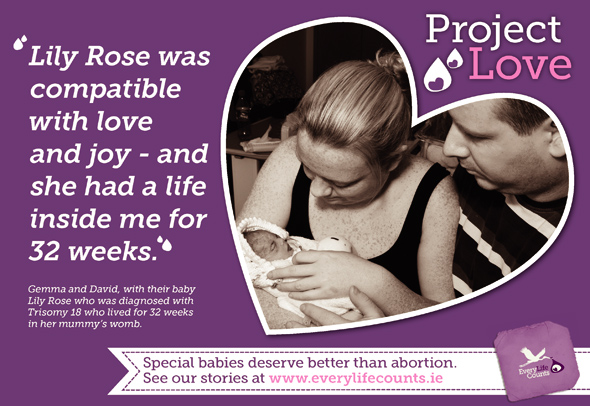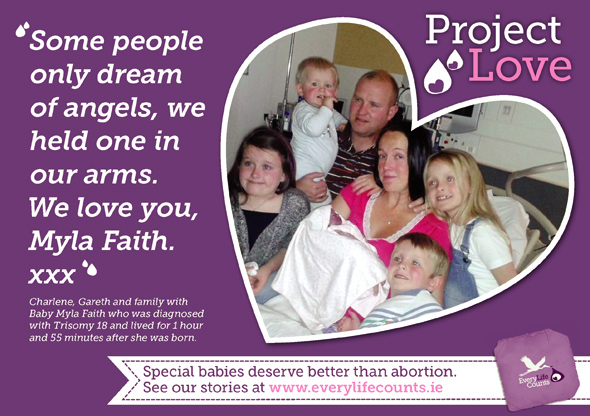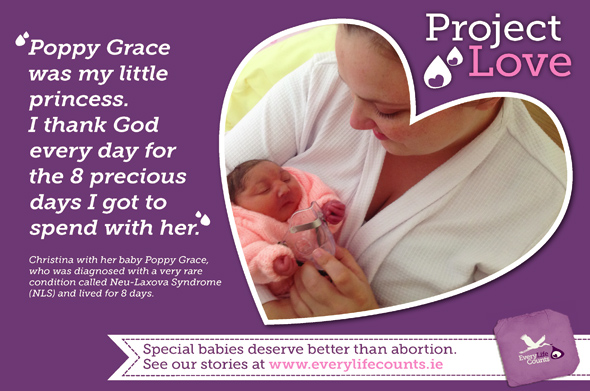 ---
The most common of these disorders
Anencephaly
Anencephaly is a serious neural tube defect which causes the baby's brain not to develop properly. A recent study found that 72% of babies with anencephaly lived for a short time after birth. Of those children, 25% lived up to 5 days, while up to 7% lived up to 28 days after birth. (1) Two children - Stephanie Keene and Nicholas - lived in excess of two years. Kildare mother Aileen Behan's little girl Lilly Ann lived for 6 days. She says "I was told that she wouldn't live after birth, she did for 6 days. When you're told you're going to get nothing, to get 6 days is just a miracle. There were 2 wishes I had for her, one that she would feel the air in her face and one that she would be held and loved by everyone. And she was."
(1) Jaquier M, Klein A, Boltshauser E. 'Spontaneous pregnancy outcome after prenatal diagnosis of anencephaly.' British Journal of Obstetrics amd Gynaecology 2006; 113:951–953
---
Trisomy 18
Trisomy 18 or Edwards Syndrome arises because of the presence of an extra chromosome. Quite contrary to recent reporting, studies have found that the average duration of survival for children with Trisomy 18 was 14.5 days; with 38.6% of babies surviving for more than a month, while 8.4% survived for more than a year. (2) Here in Ireland, Elaine Fagan, given just days to live after birth, spent 25 years with her loving family before her death in 2011, confounding all medical expectations. "She has touched so many people. I now know happiness comes from caring and sharing with others. I wouldn't have found that out if I didn't have Elaine. It's thanks to her that I am seeing a lovely side of human nature," said her father Micheal.
(2) Mitchel L. Zoler, 'Trisomy 18 survival can exceed 1 year', OB/GYN News, March 1 2003 Trisomy 13 / Patau Syndrome
---
Trisomy 13 / Patau Syndrome
Trisomy 13 or Patau Syndrome also arises when the baby has an additional chromosome. Research has found that children with Trisomy 13 live on average for 7 days after birth, while almost 31% live for more than a month, and almost one in 10 live for more than a year. (3) Kathleen Rose Harkin, who lives in Cavan, has defied all doctors predications to celebrate her seventh birthday despite having Trisomy 13. "They say Trisomy 13 is incompatible with life, but Kathleen Rose is the love of our lives," says her mother Tracy. "She shows us how to love."
(3) Mitchel L. Zoler, 'Trisomy 13 survival can exceed 1 year', OB/GYN News, March 1 2003

In Addition: A recent study in the American Journal of Medical Genetics (2013) found that many parents met with negative reactions from healthcare providers regarding their children who had been diagnosed with Trisomy 13-18. 91% of parents who continued with the pregnancy said they would do that again - and for most of these parents, perinatal hospice care was not available. Our children are not a diagnosis, AJMG, 2013.
---
Potter's Syndrome, Potter's Sequence and Renal Agenesis - a breakthrough in care
Some conditions including Potter's Syndrome, Potter's Sequence and Renal Agenesis mean that a lack of kidneys or kidney development causes a decreased amount of amniotic fluid - which can also mean that the baby's lungs fail to develop. It has tended to be associated with a very poor outcome but this is not invariably so, and a new treatment means the outlook may dramatically improve.
US Congresswoman Jamie Herrera Beutler was told that her daughter had Potter's Syndrome and that "It's 100 per cent fatal. She will either be stillborn, you'll miscarry, or she will suffocate in your arms after she's born". But the Beutlers urged doctors to try an experimental treatment - injecting a small amount of saline into the womb to act as a substitute amniotic fluid.

Abigail Beutler, was born in July 2011, and is thriving, sitting up, chattering and playing with her adoring parents. She is awaiting a kidney transplant and her Dad, Dan Beutler, is a match. Abigail's story may now change the treatment protocol for Potter Syndrome.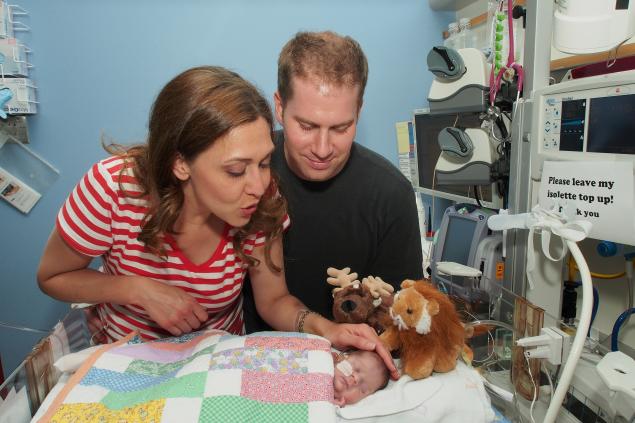 ---
Some doctors get it wrong
In September 2014, the Daily Mail reported the story of a baby boy whose mother was strongly advised to abort since he was 'fatally ill' .

Robyn Wilson and her husband Adam said they were told ultrasounds showed the baby had a chromosomal disorder and that they came under pressure to abort, with doctors in Jessops Hospital in Leeds going so far as to book an abortion and telling the couple that while it wasn't compulsory, it would be for the best.

Robyn said she thought: 'What would be worse? Having an abortion, or having the baby in my arms for just a few minutes or days, maybe weeks?'" Wilson said. "I thought I was never going to get that first hug, his first birthday party or that first day at school – let alone more. I thought it had all been taken away from me before it had even begun."

Baby Harry was born perfectly healthy. "The doctors and nurses couldn't believe it," his mother said. "They all call him 'the legend baby.'"
---
Support
Soft Ireland
Set up by parents for parents of Trisomy children, SOFT, the Support Organisation for Trisomy, in Ireland, is a voluntary group dedicated to providing support for families of children born with Patau's Syndrome (Trisomy 13), Edwards' Syndrome (Trisomy 18) and related chromosomal disorders. Support is provided during prenatal diagnosis, during the child's life and after the child's passing.
www.softireland.com
Laura Lynn
The Laura Lynn hospice is the first hospice in Ireland to offer services to children with life-limiting conditions. Parents can avail of support in bringing children home from hospital after birth, medical care at home, and end-of-life care.
www.sunshinehome.ie/lauralynn-house.html
Perinatal Hospice
A wonderful support service for families facing a poor diagnosis for their baby. The perinatal hospice service gives parents the gift of time by offering the best possible medical and professional support to everyone involved, and allowing parents to create precious memories of their time with their special children.
Now I lay me down to sleep
A free professional photography service especially for families facing the untimely death of their baby. Remembrance photography is a very important step in the healing process. This wonderful service is available for free for Irish families.
www.nowilaymedowntosleep.org - - and for a list of Irish providers - www.feileacain.org/remembering/now-i-lay-me-down-to-sleep-photographers/
Anencephaly.info
Information about the life-limiting condition, anencephaly, which arises while the child is in the womb. Help is offered for affected parents, caregivers, family and friends.
www.anencephalie-info.org
Be not afraid
Benotafraid.net is an online outreach to parents who have received a poor or difficult prenatal diagnosis. There are many inspiring stories of children whose short lives touched so many people.
www.benotafraid.net
TAG - Trisomy Advocacy Group
Trisomy Advocacy Group (TAG) is an organization advocating for the Trisomy community by empowering families and the medical community to make informed decisions regarding the care of Trisomy children.
www.trisomyhelp.org
---
Links & further reading
Articles
Testimonies
Reports and Research